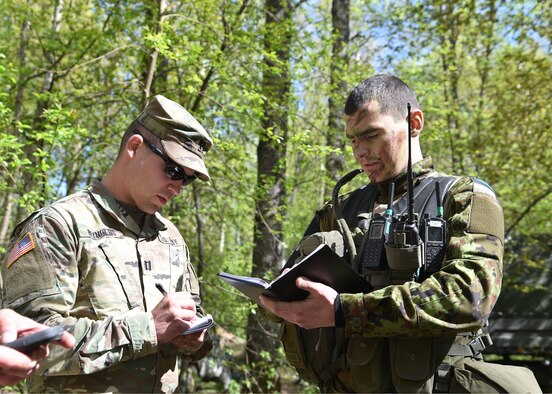 TAPA, Estonia (AFNS) —
Approximately 50 Airmen and Soldiers from the Maryland National Guard deployed to Estonia to participate in exercise Spring Storm (Kevadtorm), an Estonian Defense Force annual exercise. Members from the 290th Military Police Company, Maryland Army National Guard, the 175th Wing Security Forces Squadron and the 175th Cyberspace Operations Group, Maryland Air National Guard, embedded with Estonian military forces to conduct training that mirrored real-life war fight situations.
"One of the biggest highlights is being able to work with our international counterparts," said Army Capt. Timothy Reynolds, 290th Military Police Company commander, Maryland Army National Guard. "Being able to interoperate and build those international alliances and relationships has been a highly valuable experience for this joint force unit and myself as well."
The training fostered collaboration for more than 9,000 military personnel from more than a dozen NATO partner countries. The brigade versus brigade scenarios were implemented to test preparedness and response for wartime situations.
"This is not a typical training environment for the military police detachment," said U.S. Army Spc. Angelique Helkowski, 290th Military Police Company. "When we train stateside, we do the same things repetitively. This gets us out into nature and relates more to a deployed environment."
Maryland National Guard Soldiers and Airmen participated in scenarios to include convoy security, detainee operations, entry control points and tactical patrols. The integrated groups were required to build camps and live in field conditions where they had to sleep in single person tents with only meals-ready-to-eat.
"In an austere environment, especially on cold mornings, you see the troops' morale actually goes higher when they are dealing with harder situations," said Army 1st Sgt. Chad Crockett, 290th Military Police Company. "I think it's because they realize they are a team and they are working through it together."
Before the exercise began, Maryland National Guard members trained with their international counterparts at the Estonian Defense Force army base in Tapa, Estonia. The exercise commenced for the Maryland military police and security forces personnel in Ida-Viru County in East Estonia.
The members were separated into four integrated squads. Tech. Sgt. Kevin Miner, 175th Wing Security Forces specialist, Maryland Air National Guard, served as the second squad leader during the training.
"My squad included nine team members that performed very well together, especially in the detainee operations portion, which was one of the larger training sections that was evaluated," Miner said. "Although my squad had never trained together, we were able to mobilize as a team. It was a very easy transition and we had unit cohesion immediately."
This was the first year that MDNG members jointly participated in this capacity within the Spring Storm exercise. Another first was the Estonian Cyber Command authorized Maryland cyber personnel to access Estonian networks.
"It's a big deal because we have different laws and regulations that normally prevent us from being on different partner nation networks," said Master Sgt. Martin Bartkowski, 275th Operations Support Squadron cyber intelligence analyst, Maryland Air National Guard. "This is huge that they trust us enough to let us on and look at their real data that's across the network."
Maryland's partnership with Estonia through the National Guard Bureau's State Partnership Program, which spans over 25 years, continues to grow as more exercises are developed and conducted.
"This has been a great opportunity. I hope we can continue participating in these types of exercises and operations," said Reynolds, who served as the exercise commander for MDNG personnel. "We look forward to working with our Estonian and NATO partners in the future."