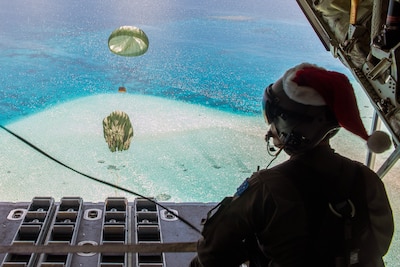 JOINT BASE PEARL HARBOR-HICKAM, Hawaii — U.S. and partner Airmen in Guam are set to participate in the Department of Defense's longest running humanitarian mission beginning Dec. 10.
Operation Christmas Drop is an annual U.S. Air Force tradition of packaging and delivering food, tools and clothing to more than 56 remote islands in the South-Eastern Pacific, including the Commonwealth of the Northern Mariana Islands, the Federated States of Micronesia, and the Republic of Palau.
During the weeklong international charity effort, Pacific Air Forces (PACAF) airpower ambassadors from Andersen AFB, Guam, Joint Base Pearl Harbor-Hickam, Hawaii, and Yokota Air Base, Japan, will work with their partners in the Japan Air Self-Defense Force, the Royal Australian Air Force, and the Royal New Zealand Air Force, to execute low-cost, low-altitude training air drops.
The aerial delivery serves as valuable interoperability training with the partner nations while delivering various donations provided by private donors, charitable organizations and the University of Guam.
This year's event will mark the third time the C-130J Super Hercules aircraft will be flown during the operation. The new aircraft model, which is to supplant the C-130H Hercules, will allow aircrews to expedite cargo across an area covering more than 1.8 million square miles.
The rich history of Operation Christmas Drop started in 1952 when locals on the atoll of Kapingamarangi waved at the aircrew of a passing WB-50 Superfortress, prompting the crew to gather, pack and parachute goods to the islanders.
Nearly seven decades of valuable training for aircrews and the resulting delivery of more than one million pounds of charitable goods later, the 2019 missions are set to carry on this tradition of international goodwill.
CLICK ON THE TITLE TO READ MORE → [Indo-Pacific partners Join Pacific Air Forces for 68th Year Delivering Humanitarian Aid to 20,000 People Across 56 Islands ]