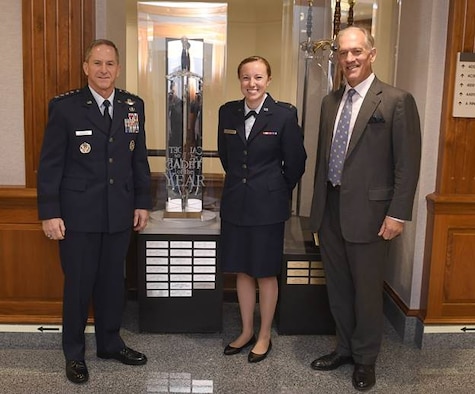 ARLINGTON, Va. (AFNS) —
Second Lt. Kirsten Cullinan comes from a family so rich in military accomplishments – father served 30 years as an Air Force pilot, mother served in the Army, both siblings are Air Force officers – that rising above that impressive history would seem difficult.
Yet, Cullinan made her own substantial mark Oct. 22, by being honored as the 2019 Cadet of the Year by Air Force Chief of Staff Gen. David L. Goldfein at a ceremony at the Pentagon.
To put the award in perspective, Cullinan was selected from a rigorous competition open to more than 3,000 Air Force Academy, Reserve Officer Training Corps and Officer Training School cadets.
In her remarks, Cullinan said, "it was an honor" to receive the award, but she also said it was slightly awkward because she felt any of her fellow cadets at the University of Notre Dame could have earned the prestigious award.
"It was a team effort, and I feel that it's not only me getting recognized but Detachment 225 as a whole getting recognized for all of our accomplishments," she said.
That ideal was present in the audience, where three of her fellow cadets from Detachment 225 at Notre Dame came to the Pentagon to show their support for their friend and fellow officer. Their presence, she said, reflected the spirit, cohesion and support that contributed to her personal success.
Cullinan graduated in May with dual degrees in political science and Russian. She was a Dean's List recipient all but one semester. As the commander her senior year, she revamped the detachment's physical training program and improved their scores to the top five in the nation. She currently is on active duty, training to be an intelligence officer.
"I wish I could tell you this will be the only time you'll be at the Pentagon," Goldfein said with a laugh. "But I'd be lying, because in the course of your career, I'd be surprised if you don't get tagged for a tour."
Those qualities and her history have shown that she embodies characteristics that Goldfein has frequently mentioned the Air Force needs in its Total Force personnel.
"I know Kirsten was an outstanding ambassador, not only for the University of Notre Dame, but our Air Force as a whole," he said.
The award is both prestigious and carries an interesting history. The British Air Squadron established the award in 2000 to recognize the U.S. Air Force Cadet of the Year. The air squadron presented the Millennium Sword of Friendship to the Air Force in 2000 for the first time as a symbol of the enduring British-American partnership. Since then, the name of each Cadet of the Year is engraved on the sword, and the sword remains on display in the Pentagon.
Cullinan's selection also highlighted Notre Dame's connection to the Air Force and its history of producing leaders, including Lt. Gen. Brian Kelly, deputy chief of staff for manpower, personnel, and services.
"The University has a long-standing tradition of producing graduates with a focus on service to our nation," Kelly said. "We're honored to have Lieutenant Cullinan join our Air Force and uphold that tradition."
As Cullinan spoke about her accomplishments, she thanked a number of those who supported her, from her parents, her soccer coach, to the commander of the detachment at school, all of whom were in attendance.
Each were influential, but Goldfein highlighted one in particular.
"The truth is, the best parts about Kirsten's character were developed around the kitchen table in your home," he said.
Cullinan's father, retired Air Force Col. Pete Cullinan, admitted that their kitchen table and household were not simply places where values were established but a place where competitive nature was nurtured as well.
"They are very accomplished and definitely tell each other about their accomplishments and poke a little bit sometimes," he explained with a grin. "So, this one Kirsten has achieved is obviously a big deal, and I am sure we will be hearing about it, and I'm sure there will be more amongst them to follow."