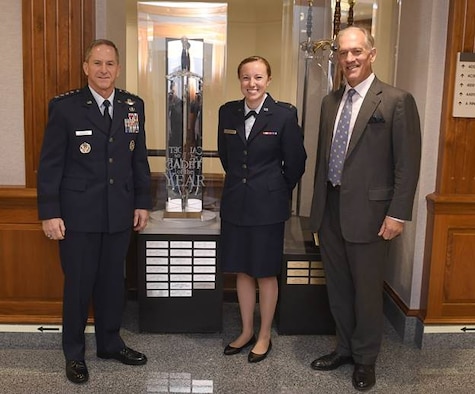 ARLINGTON, Va. (AFNS) —
Second Lt. Kirsten Cullinan comes from a family so rich in military accomplishments – father served 30 years as an Air Force pilot, mother served in the Army, both siblings are Air Force officers – that rising above that impressive history would seem difficult.
Yet, Cullinan made her own substantial mark Oct. 22, by being honored as the 2019 Cadet of the Year by Air Force Chief of Staff Gen. David L. Goldfein at a ceremony at the Pentagon.
To put the award in perspective, Cullinan was selected from a rigorous competition open to more than 3,000 Air Force Academy, Reserve Officer Training Corps and Officer Training School cadets.
In her remarks, Cullinan said, "it was an honor" to receive the award, but she also said it was slightly awkward because she felt any of her fellow cadets at the University of Notre Dame could have earned the prestigious award.
"It was a team effort, and I feel that it's not only me getting recognized but Detachment 225 as a whole getting recognized for all of our accomplishments," she said.
That ideal was present in the audience, where three of her fellow cadets from Detachment 225 at Notre Dame came to the Pentagon to show their support for their friend and fellow officer. Their presence, she said, reflected the spirit, cohesion and support that contributed to her personal success.
Cullinan graduated in May with dual degrees in political science and Russian. She was a Dean's List recipient all but one semester. As the commander her senior year, she revamped the detachment's physical training program and improved their scores to the top five in the nation. She currently is on active duty, training to be an intelligence officer.
"I wish I could tell you this will be
…
Read the rest