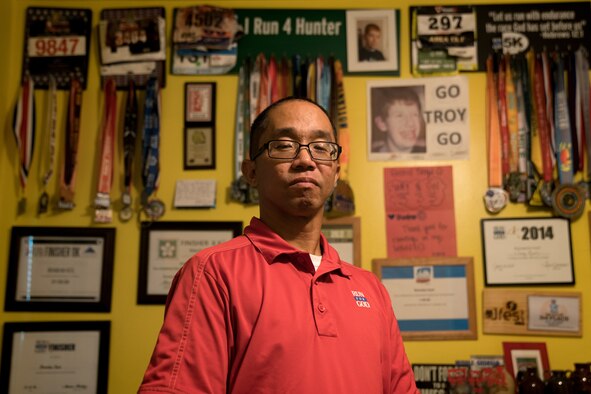 ROBINS AIR FORCE BASE, Ga. (AFNS) —
Standing there with a knife in hand and cold-hearted from the most devastating news of his life, Master Sgt. Brandan "Troy" Keel contemplated an irreversible decision. Looking into his wife's eyes after learning she was pregnant with another man's baby, he couldn't fathom living anymore. Suicide, he thought, was imminent.
Six years later, Keel is not only alive, but is in as good of a space, mentally and spiritually, as he's ever been, he said. Since that dark moment in July 2013, the Reserve Airman has a new outlook on life altogether, and he owes it all to running.
A month after learning of his wife's betrayal and sunken into a deep depression, Keel, then 38, said he was going through one of his social media newsfeeds when he saw a post promoting a local running group. Needing something to help relieve his stress, he decided to give it a try.
Keel felt welcomed immediately. Group members showered him with belonging and encouragement; and from that instant, he was sold.
"August 21, 2013, is what I call my 'runiversary,'" Keel said. "That's the day I joined a local running group. You can say that's the day I started my running journey."
In no time at all, he began his routines. While running with a friend, he found out about another group that hosted a 5-kilometer training class. The class offered a 12-week program that incorporated running training with Bible study.
"It was important because I didn't realize…how, basically, running and my spirituality go hand-in-hand," he said. "And not only that, but also God has introduced me to people who I can turn to if I was struggling or anything like that."
At first, Keel said he wasn't sure what he got himself into.
…
Read the rest